News
Wilma Owners to Now Focus on Developing Affordable Housing
By JENNA CEDERBERG  of the Missoulian |  Saturday, October 15, 2011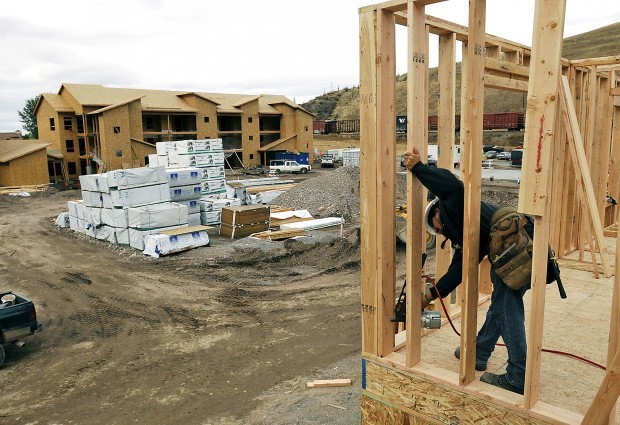 Rocky Mountain Development Group founding partners Rick Wishcamper and Justin Metcalf introduced themselves to the city of Missoula when they purchased the Wilma Building in a high-profile deal in 2007.
The pair started their company in Missoula and initially focused on traditional development, creating condominiums and buildings. In between other projects, RMDG worked to rehab portions of the Wilma and slowly sold sections – mostly condos on the upper floors – to an association of owners. A project this summer restored, replaced or replicated portions of the downtown landmark's intricate outside cornice.
But that was the group's last bit of work on the Wilma. In fact, the Wilma may be the group's final traditional development project. Wishcamper and Metcalf announced at the end of September they're putting the Wilma Theatre up for sale. If it's sold, the only remaining piece of the building belonging to RMDG will be its offices on the Caras Park level.
Wishcamper and Metcalf, along with vice president Mike Bouchee, have shifted RMDG's focus exclusively to acquiring and rehabilitating affordable housing communities. In the past two years, the group has bought more than 2,300 units of affordable housing across the country. The company also bought property in Hellgate Canyon on the site of the old Missoula Athletic Club, where one of its new projects is under way.
It was a change precipitated in part by recession and in part because the returns are high and the inventory is readily available. But it's based, too, the trio says, on a broader desire to create a better quality of life for those who depend on affordable housing. RMDG aims to build up community assets that serve and reward everyone, from investors to tenants.
"In a lot of communities, affordable housing is a pejorative label for bad neighborhoods," RMDG president Wishcamper said. "Affordable housing done right doesn't recreate the history that led to the stereotype and prejudice. It's creating communities that serve all stakeholders."
If that sounds like a sort of good-development evangelism, it is.
Take the 100-unit Mississippi Industrial College Homes Apartments complex in rural Holly Springs, Miss.
Holly Springs Mayor Andre De'Berry said the rat- and roach-infested complex had a 30 percent occupancy rate when Rocky Mountain Development Group bought it more than a year ago. A portion of one building had burned, leaving a gaping hole in the roof. Tenants were unemployed, single mothers struggling to get by.
"People literally were living in homes where the window casings were leaving the structure itself. You can imagine trying to heat something like that. Or even to cool it," De'Berry said.
Wishcamper, who is in charge of the Holly Springs project and travels there monthly as the project progresses, said the kids living there were embarrassed to call it home.
When the economy turned on its head, RMDG was fortunate to have been holding only a small number of properties, Wishcamper said. What it did have was an expanding expertise in navigating the complicated world of low-income housing tax credits and U.S. Department of Housing and Urban Development regulations. The company also had strong ties to national brokers. Wishcamper's father, in fact, is a longtime developer, and has offered his advice and an occasional partnership with his own firm, Wishcamper Companies Inc.
Furthering the push into the specialized sector was the fact that there is a large surplus of affordable housing complexes in need of renovation. As interest rates dropped and buyers left the market, RMDG found it could buy existing complexes inexpensively, creating the chance to produce both big returns and better housing.
"I think that for all of us there was a period where operating the Wilma was really sexy, new, fast-paced. But to keep the doors open we had to get into real estate," Wishcamper said.
*****
Rocky Mountain Development designed two primary lines of affordable housing business strategies: Metcalf specializes in straight acquisitions, the purchase of complexes that still have useful life and require less investment up front. Those deals are mainly financed by private investors and government-backed loans.
Wishcamper and Bouchee work on tax-credit acquisitions, which often rely on one-time funding streams such as stimulus program money and tax credits. These projects often involve dilapidated complexes like the one in Holly Springs.
RMDG purchased the foreclosed Holly Springs property from the Mississippi Development Authority for $1 – "We overpaid," Metcalf said – after the city decided it wanted to work with RMDG to renovate the complex. A $5.4 million U.S. Department of Housing and Urban Development Neighborhood Stabilization Project grant was awarded to the project and RMDG added about another $1 million.
Work is now about 80 percent complete. The roofs are pitched, security guards walk the premises and several playgrounds have been installed. They've renamed the complex Garden Springs Apartments.
Not only did Rocky Mountain boost the self-esteem of tenants, business are starting to spring up in the area, De'Berry said.
De'Berry had toured a similar revitalization at another RMDG project site in Jackson, Miss.
"When I went there and saw this gated community with picnic areas, computer labs and a place for health centers, I was just blown away, and I saw that these guys were more than just business people. They were concerned about the people who live there," De'Berry said.
RMDG has developed an entire resident services division to help tenants in all its complexes. Resident services are a key to success for both the project and those who live there, Wishcamper said. At the Industrial College Homes Apartments, resident services include the most basic of services, including helping tenants learn how to open a checking account.
Today, there's a waiting list to get into Garden Springs.
"Three hundred to 400 people were literally standing in line to come get into the 100-unit apartment complex. It was astonishing to see, and (these were) people who wouldn't even pass by or drive by (before the renovation)," De'Berry said.
******
RMDG's local project will introduce Missoula to a new kind of affordable housing complex, based on the philosophy of community building ongoing in Holly Springs. The Silvertip Apartments complex under construction on East Broadway was funded by a unique deal RMDG helped structure.
"I spent my childhood down here playing basketball, working out, playing tennis," said Bouchee, who is overseeing the Silvertip project. "We would put these, as a property, we would put them up against any property in Missoula in terms of amenities, quality and location. And they're going to be extremely affordable."
Low-income qualifying residents will move in, but so will middle-income and moderate-income residents. Students will qualify, too.
"It's industry best practice to try to combine folks from across a broad income spectrum and age mix," Bouchee said. "The more mix in a community, the more dynamic community you create and ultimately, the more healthy community you create."
But structuring a deal to fund the large project and accommodate that range of qualifying residents was extremely complex.
RMDG began working on a deal in 2009, and bought the former athletic club property in 2010.
They had the vision and the qualifying property, but only a government entity could apply for HUD Neighborhood Stabilization Program grant money.
Nancy Harte, who works in the Missoula Office of Planning and Grants, worked with RMDG and the Missoula Housing Authority to write the grant application, which morphed into a 3-inch binder that ultimately asked for $5 million to build the 115-unit complex.
The HUD program is a one-time grant source that came out of a Bush administration program enacted when the housing market began to crumble. When Harte saw it come available, most of the nonprofit developers she usually works with weren't in a position to work on a project that big.
"Rocky Mountain Development Group was at the table and said, 'let's explore this,' " Harte said.
The $5 million grant was the largest chunk of neighborhood stabilization money awarded in Montana and the only grant for a multifamily housing project. They also secured a $6.75 million loan from HUD's Multifamily Housing Program. Missoula Housing Authority also provided $1 million to the project from funds secured by the sale of other affordable housing units.
Missoula Housing Authority will manage the property for RMDG and own 20 units, while RMDG will own the remaining 95 units.
*****
The private-public partnership was a first for Harte and for the Missoula Housing Authority, which usually works with nonprofit housing developers.
Missoula Housing Authority executive director Lori Davidson sees affordable housing projects becoming more dependent on public-private partnerships as the availability of federal grant money shrinks and the need for affordable housing grows.
"(Obtaining) grants to just build affordable housing is not enough to fill the affordable housing gap," Davidson said. "Any sort of creative way to get funding, we need every one of them. We need to be thinking outside the box."
The complicated Silvertip deal will be hard to duplicate, Wishcamper said.
But there's always room for creativity and RMDG is on course to continue its rapid acquisition and renovation schedule. The group acquired $84 million of affordable housing in 2010 and wants to boost that number to $150 million through the first quarter of 2012.
That means Rocky Mountain Development Group will be busier than ever. Missoula Housing Authority already is forming an interest list for the Silvertip Apartments. Construction is ahead of schedule and RMDG hopes to have tenants in the complex by early next summer, Bouchee said.
Wishcamper is also set to fly to Holly Springs in mid-November for the ribbon cutting on the Garden Springs Apartments.
Sustainable development was always a part of RMDG's mission, Metcalf said, but developing projects that better their communities has proved extremely fulfulling.
In Holly Springs at least, Mayor De'Berry says RMDG's work has raised standards throughout the community, thus raising expectations of what tenants can do for themselves.
A Garden Springs tenant stopped to talk to De'Berry recently.
"They said to me, 'Mayor, you told us you were all going to do something, You and the Wishcamper guys followed through on what you said,' " De'Berry said. "In Rick, I see a sense of community and sense of humanism that you don't usually see in businessmen. I'm here to tell you, (RMDG) lives up to their mission."
http://missoulian.com/news/local/article_3609590c-f7ae-11e0-a42d-001cc4c03286.html#ixzz1b3Ny9h9K